Not Your Typical Energy Provider
Ohioans, get ready for CleanSky Energy, a provider dedicated to elevating renewable energy in an affordable manner. Our green plans are backed by clean and affordable energy, ensuring a sustainable future while keeping costs competitive. Now, making the switch to CleanSky Energy in Ohio is easier than ever.
Setting A New Standard in Renewable Energy
As Ohio steps towards a cleaner future in energy, CleanSky Energy is here to disrupt the stigma around renewable energy and provide worry-free rates for the market.
100% Renewable Energy

Going green shouldn't be pricey. Our emission-free plans are 100% backed by solar and wind energy so you can play a part in creating a healthier environment and reducing your carbon footprint.

Price Stability with a Guaranteed Fixed Rate

No gimmicks or gotcha fees here. Your energy will be supplied at a guaranteed fixed rate for the life of your contract. When your contract is up, we'll offer you the option to renew at our available best rates.

Friendly, Efficient & Reliable

You are the reason CleanSky Energy exists. You will never be left out of the loop and our customer support is always here to provide assistance.
Who Says Green Energy is More Expensive?
Save more on your electricity supply cost when you choose CleanSky Energy compared to the utility standard offer for residential customers in Ohio*.
Additional Savings
To help you save even more, we created CleanSky Savings Assistant – a bill negotiation service that will work on your behalf to secure lower rates with your household service providers such as cable, internet, home security and more. This service is a free benefit to CleanSky Energy customers.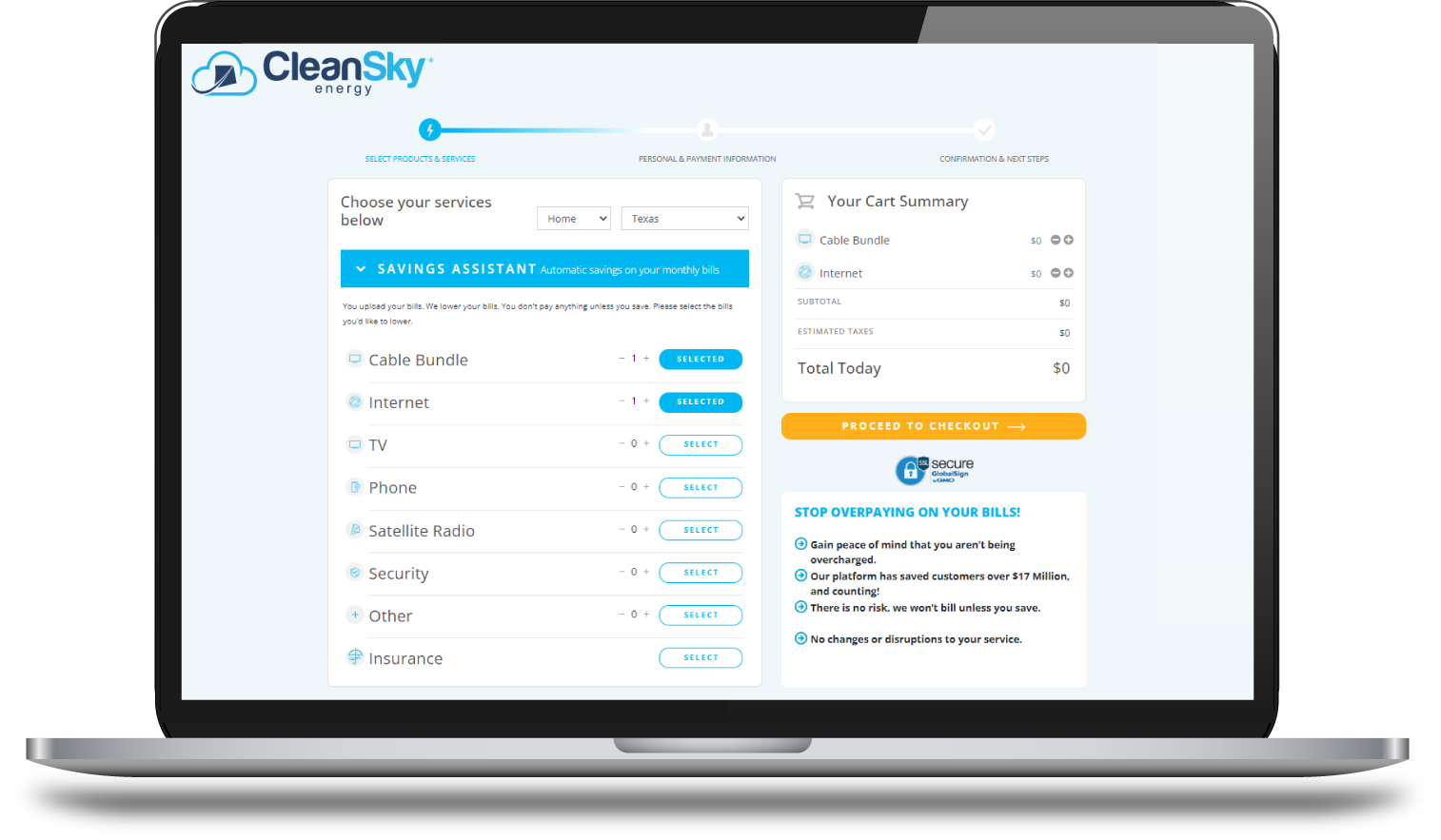 Our Customer's Experiences

Philip Jones
★★★★★
Yanique did an excellent job of helping me get my understanding of my account information straightened out following my failure to maintain my account paperwork at home. She was very helpful - quick, thorough and very nice to work with!

Queen Country
★★★★★
Great price for the supplier part of my energy bill! Would HIGHLY recommend them!

Tony Johnson
★★★★★
I like it it does save me money on my monthly bill

Michael Mennig
★★★★★
I was very happy with the assistance of Joelle. Very professional and did a great job helping me.

William Matthews
★★★★★
Yesterday I when to Clean Sky Energy to select an electric energy supplier. Was assisted by "Junil", who was very patient and helpful.I wanted to register several accounts with AEP, Ms Junil took the time to make sure each account was set up accurately and properly. I got a great 12 month electric generation rate and top rate customer service.So far AEP is Great…can only hope it continues.

MaidInTheMountains CleaningServices
★★★★★
Francine at CleanSky Energy was a pleasure to speak to and was very helpful assisting us with our situation. Highly recommend this company!

Cait Lin
★★★★★
I've been with CleanSky for environmental reasons & their outstanding customer service. Today, I spoke with Joshua who provided the same outstanding service. He was patient- I called because I have 3 accounts & he spoke clearly & honestly. I was able to renew all 3 & there was no pressure to renew or upselling- he laid out the facts & let me make the decision. I'll keep choosing CleanSky knowing I can speak to not only a real person, but a really nice, knowledgeable & helpful one at that.Update 6/21/23:Tried to renew online, but an error message prevented that. Called, didn't have to wait & was helped by Ocia. She asked how I was, explained everything clearly & helped me renew easily. Terrific customer service!

T BURR
★★★★★
Everything was so quick and easy! They really know what there talking about and make it really simple!!
FAQs
What if you have a power outage?
In the event of an emergency power outage in your home, call your local utility company. They are responsible for fixing power outages when they occur. Your utility's contact information is found on your monthly energy invoice.
Do I need any special equipment for a green energy plan?
No additional equipment is necessary to receive electricity from CleanSky Energy. Your home or business will use the same energy-supply lines as always.
Is CleanSky Energy affiliated with the local utilities?
No. We are in no way associated with utility companies. CleanSky Energy is licensed by the appropriate Public Utility Commissions to supply electricity in all of the states we service. The utility companies are regulated to transport electricity to the population. CleanSky Energy purchases green energy commodities from the open energy market in order to provide the most affordable energy rates possible to our customers.
How long will it take for my electricity to switch over?
The exact times for switching is determined by your local utility. It depends on when you enroll but the change will most likely occur on the date of the next scheduled meter-read by the utility. After enrolling with us, you will receive a welcome letter with the details of your energy agreement. It may take one to two billing cycles for CleanSky Energy to appear on your invoice from the utility company.
Is it necessary to call my current supplier?
No. We'll handle notifying the right people for you. CleanSky will ensure it's completely seamless and with no interruption in energy service.
How much does it cost to switch to CleanSky?
There is no enrollment fee with CleanSky Energy. However, your local utility may charge a nominal, one-time service charge that will appear on the following invoice from the utility.
Sign Up Now and Save Green
Sign up for CleanSky Energy today to save more than AEP Ohio *
*Actual savings will vary based on utility area and household usage. Utility rates subject to change.
CleanSky Energy, located at 3355 W Alabama St # 500, Houston, TX 77098, is certified to provide electricity and natural gas supply in the State of Ohio. PUCO Certificates: Electric: 13-700E, Natural Gas: Cert # 15-485G